You Play We Play Review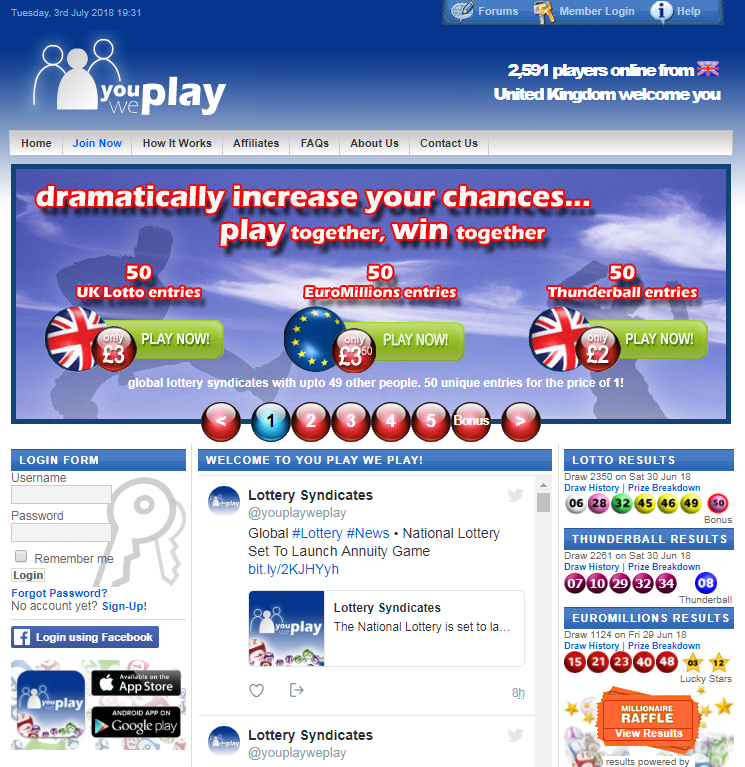 A review of the YouPlayWePlay syndicate system
You Play We Play is an online lottery syndicate system that was launched in 2006 and gives players the opportunity to play in 4 well known lottery games as a syndicate member. This is a well established business so is it a quality site with a high end product or an also ran that is better left alone?
What games are on offer?
You can buy ticket shares in the UK lotto, Thunderball, Euro Millions or the Health Lottery. There is a maximum of 50 syndicate entries in each draw; this does not necessarily mean that 50 members are making up each syndicate though. If 50 members purchase one syndicate entry each then there will be 50 members making up a syndicate. However, if 40 members purchase a single syndicate entry each and one person purchases 10 syndicate entries, then there will be just 41 members making up the syndicate. I think you get the idea!
What are the costs?
To purchase a single ticket entry into one of the You Play We Play syndicates the costs are:
UK Lotto: £3
Euro Millions: £3
Thunderball: £2
Health Lottery: £2
You also have the option to buy a subscription to cover multiple draws but there is no cost benefit in doing this.
How do I pay for syndicate entries and how do I receive any winnings?
It would appear that you can only use a debit / credit card to pay for your syndicate entries. However, you are able to receive your winnings via Skrill (Moneybookers), by UK Bank Transfer or by a cheque.
YouPlayWePlay – Who are they?
This is a very good question; the "About Us" page mentions "Our Founder Members" but there is no mention of who these people are or what their background is. The mailing address for this company is a P.O. Box address in Birmingham, UK. This lack of information does not sit well with me!
What about customer service?
You Play We Play offer an email ticket support system but there is no telephone number to call which is never a good sign with an international lottery business. What's more, there is no live support which is a standard feature for all the leading lottery retailers out there today.
What do I think of You Play We Play?
Good Points:
Syndicates give players improved odds
Reasonable value syndicate entry costs
Negative Points:
Only four lottery games offered
Who are they?
Limited customer support options
Terrible website
Very little online feed back about this company
No cost advantage in subscription service
Summary
For a company who has been around since 2006, You Play We Play sure does keep a low profile. This has probably got something to do with the lack of activity that the site attracts. As a lottery promoter (affiliate) I have been marketing this company, among others, since early 2012 via my websites. During this time I have welcomed 24 members, 9 of which have never even paid for a single syndicate entry! This does not really surprise me as the site is frankly horrific and overly complicated. What's more, I know nothing about the people behind You Play We Play as they are far from upfront with such details on their website. There are some fantastic lottery retailers online today but You Play We Play is certainly not one of them. The site looks amateurish, is crammed with too much 'frontend' information and makes me want to click the back button the minute I land on it. With so many better lottery sites available, do not waste your time or money with this one! AVOID